Vietnam International Arbitration Centre
About us
Vietnam International Arbitration Center (in Vietnamese: Trung tâm Trọng tài Quốc tế Việt Nam, abbreviation: VIAC) was established under Decision No. 204/TTg dated 22 April 1993 of the Prime Minister of the Socialist Republic of Vietnam on basis of the merger of the Foreign Trade Arbitration Council (established in 1963) and the Maritime Arbitration Council (established in 1964). Since the Ordinance on Commercial Arbitration 2003, then replaced by Law on Commercial Arbitration 2010 and up to present, under the applicable Charter, VIAC is an independent organization – a legal entity. Arbitral Awards rendered by Arbitral Tribunals at VIAC are final and enforceable within Vietnam and in over 170 countries and territories that are State members of the United Nations Convention on the Recognition and Enforcement of Foreign Arbitral Awards (The New York Convention 1958).
As the leading Vietnamese arbitration & mediation institution with international credibility and, VIAC has administered thousands of domestic and international disputes in various fields of commerce, such as sale of goods, logistics, insurance, construction, finance and banking, joint venture projects, energy, infrastructure, etc. with involvement of businesses coming from almost all provinces in Vietnam. VIAC is also the only arbitration institution in Vietnam known to handle international disputes with participation of disputing parties from many countries and territories that are important trade and investment partners of Vietnam. Throughout three decades of its operation, VIAC has been spreading its wing as a reputable international mediation and arbitration institution in Vietnam, gaining trust and becoming the destination for both domestic and international business communities.
Our missions
Promote the development dispute resolution through arbitration, mediation and other alternative dispute resolution methods (ADRs) which are well-known for their convenience, efficiency and efficacy in the delivery of justice and fairness for business disputes.

Contribute to the improvement of the competitiveness of Vietnam and of business communities in Vietnam; and stimulate the economic cooperation in trade, commerce and investment activities among individuals and organizations in Vietnam, and between Vietnam and other economies.
Areas of Operation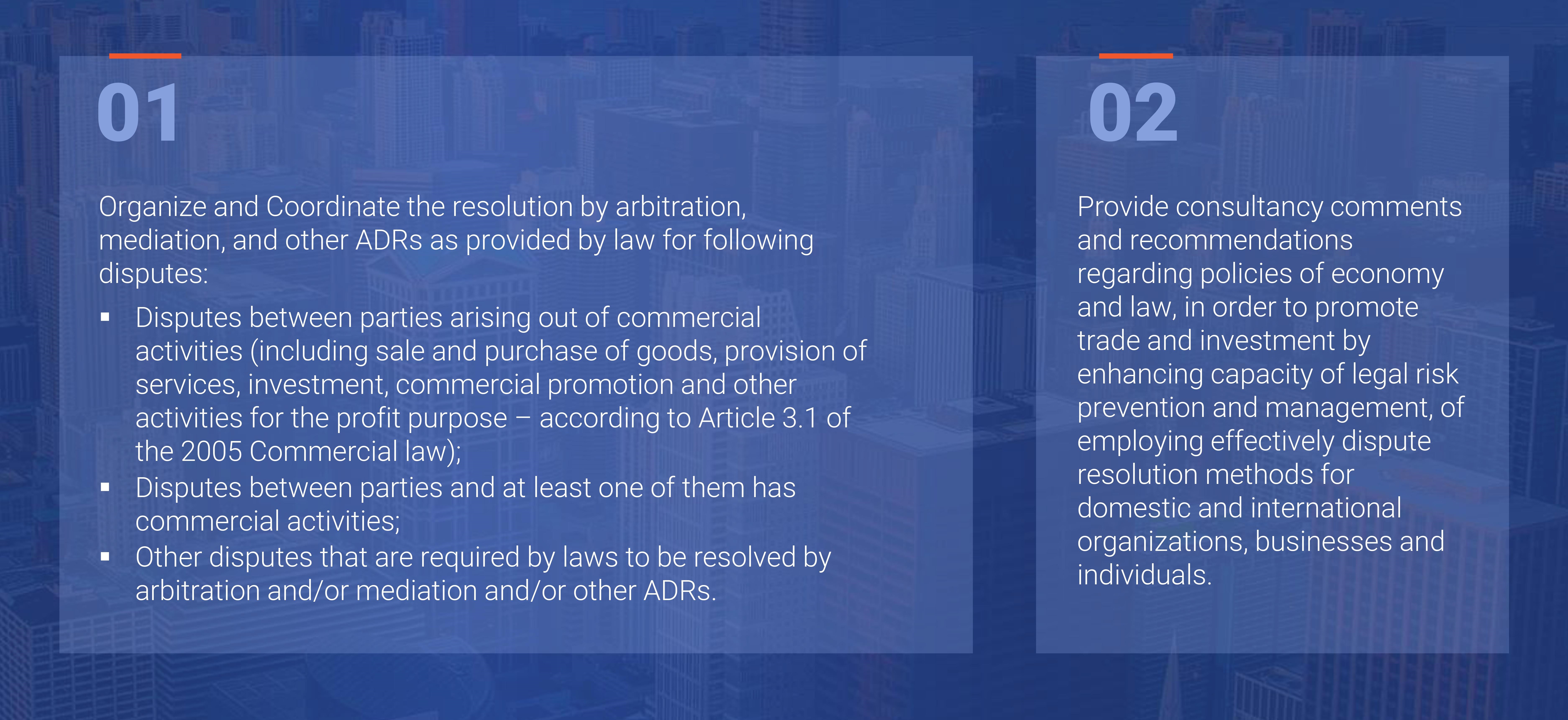 Our Functions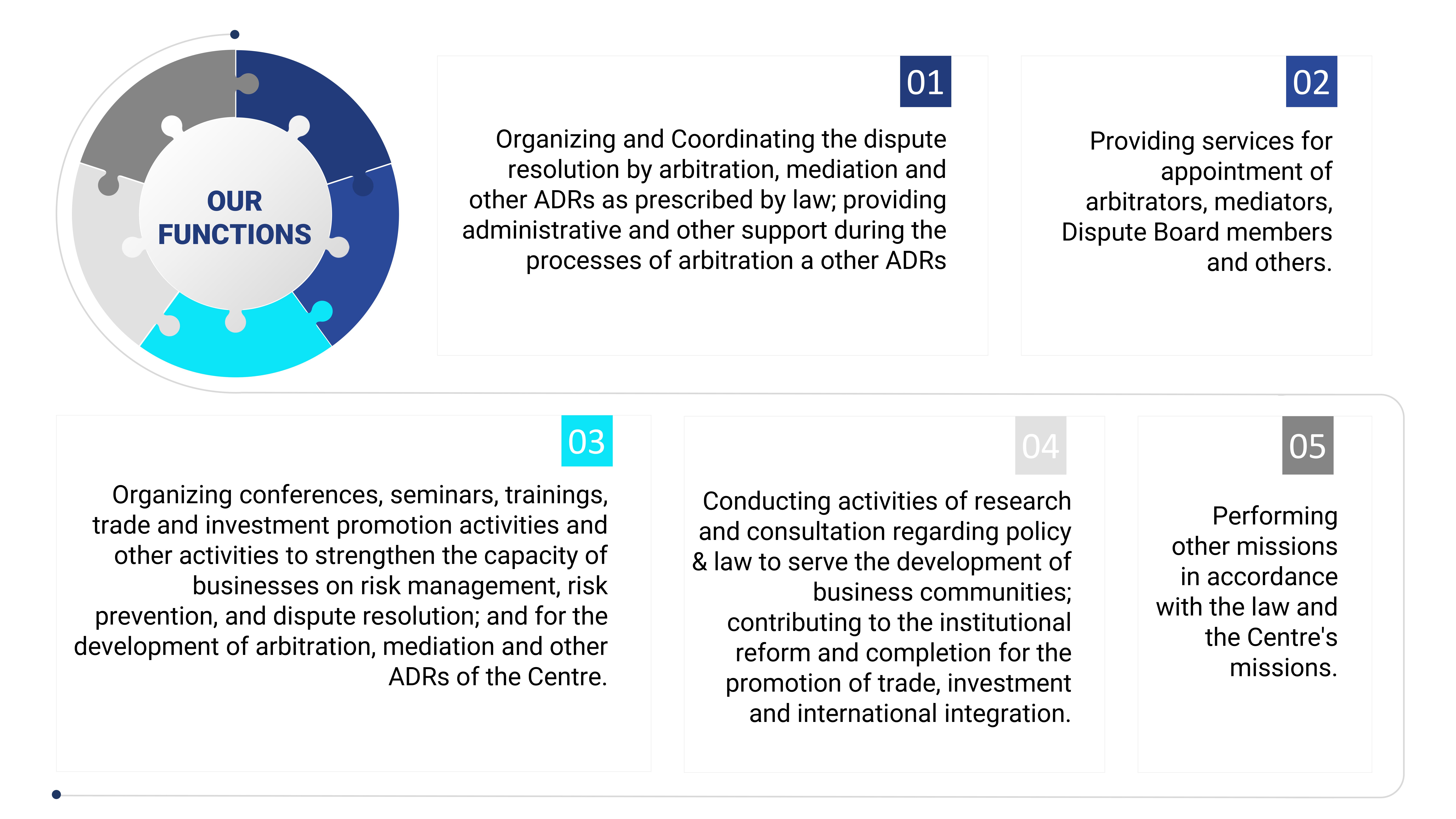 Organization Chart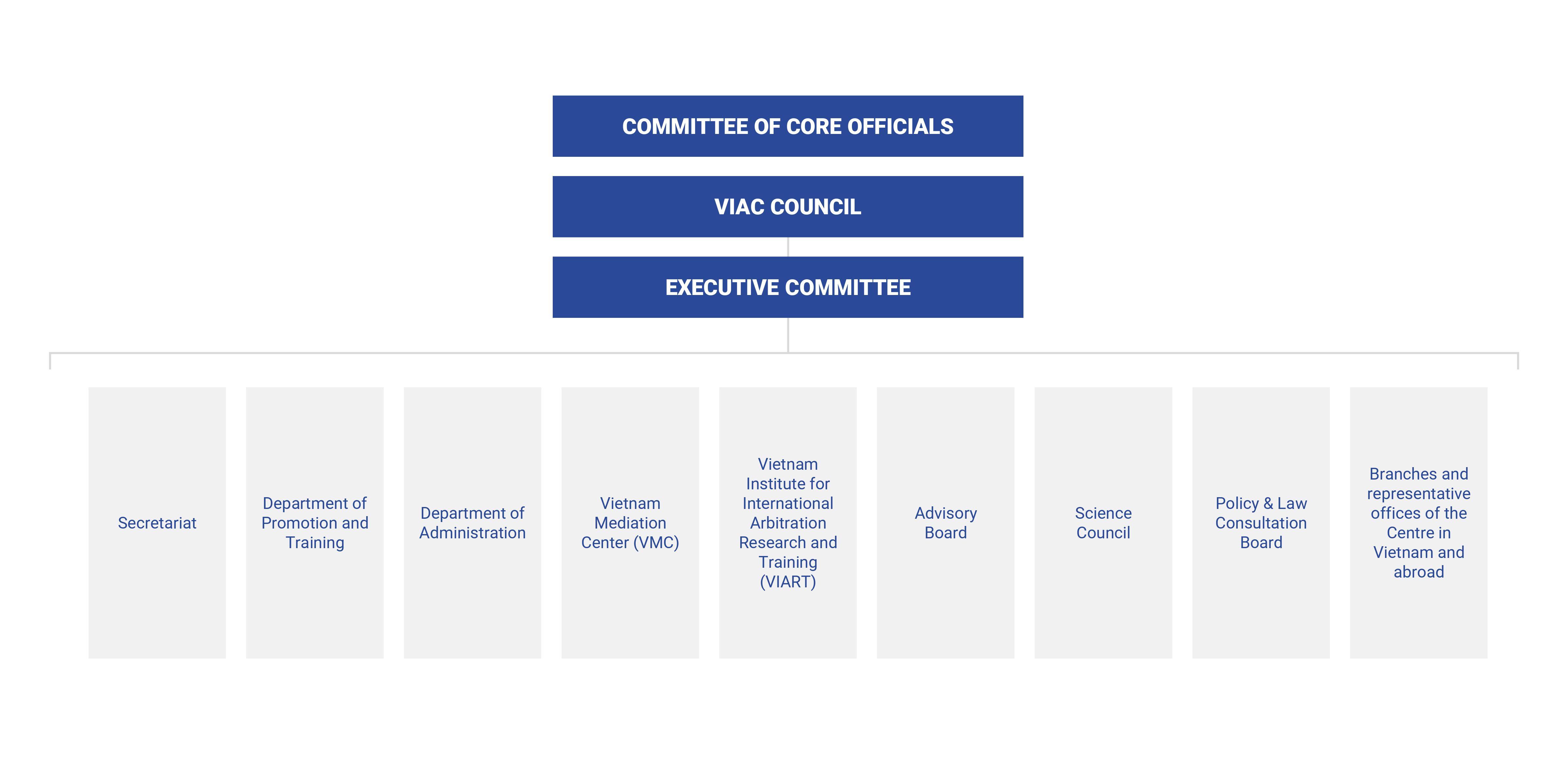 VIAC Council
Executive Committee