Vietnam International Arbitration Centre at Vietnam Chamber of Commerce and Industry (VIAC) is the first institutional arbitration centre in Vietnam with 50 years of experience in the settlement of commercial disputes. VIAC has resolved thousands of disputes in all commercial sectors, such as sales of goods, carriage, insurance, construction, banking and finance, investment, etc. involving parties from 60 countries and territories around the world. VIAC has been thriving and becoming a trusted destination for justice for Vietnamese as well as foreign enterprises.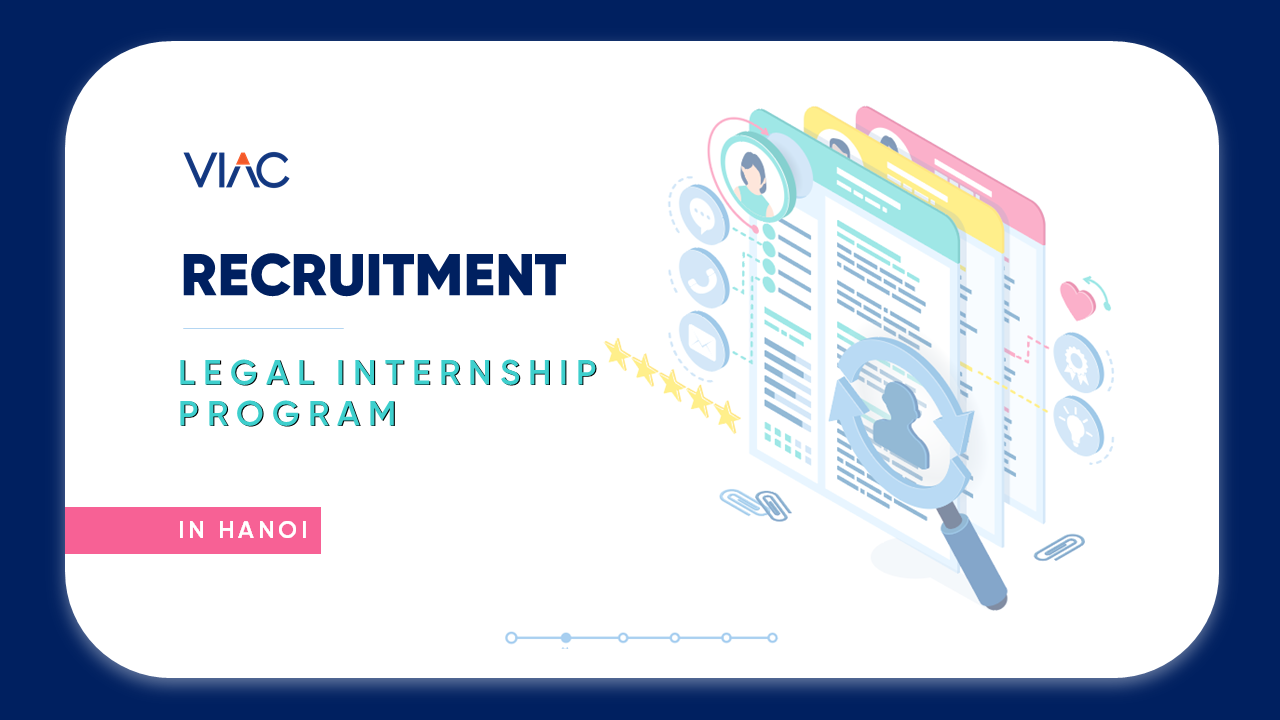 For work efficiency, VIAC recruits 02 part-time interns working at Hanoi office, the details are as follows:
Job description
Find and collect resources for the study in dispute resolution and other legal issues, assist in research for projects on development of VIAC's services;
Assist the Secretariat in operating arbitration cases, including drafting and preparing letters, managing case files, and following the proceedings to ensure the arbitration is compliant with regulations; Assist the Secretariat in hearings, including preparing documents, logistics, and supporting arising matters pre-hearing and post-hearing;
Assist in collecting, editing and translating academic contents in alternative dispute resolutions (ADR);
Other tasks assigned by VIAC.
Eligibility Criteria
University students with major in law;
Good command of English (especially reading comprehension, writing skills, and translating skills) (candidates with IELTS certificate are preferred);
Proficiency in Microsoft Office;
Good teamwork skills and communication skills;
Great discipline and eagerness to learn.
Working time and duration
Working time: a minimum of 5 work shifts (morning/afternoon) per week;
Job Duration: a minimum of 6 months (in addition to 2 months training).
Workplace: VIAC – Hanoi Headquarter
Benefits
Opportunity to observe and be directly engaged in daily arbitral proceedings and gain insights in arbitral procedures;
Opportunity to access case files, to study and discuss related legal issues, therefore acquire general legal knowledge as well as knowledge of international commercial arbitration law in particular;
Opportunity to work in a professional work environment, not only with VIAC staff but also with multiple experts in various sectors, including VIAC arbitrators and lawyers;
Opportunity to improve research skills, teamwork skills, office administrative skills, and communication skills;
Qualified candidates shall be entitled to an allowance as stipulated by VIAC (further details would be discussed at the interview round).
Application
The candidate's CV (English and Vietnamese), including the candidate's assets and work experience (if any); with attached scans of qualifications and certificates (if any);
Candidates please kindly send their CVs to Ms. Pham Thu Huong via email: pham@viac.org.vn before 07 March 2021 (early candidates are preferred);
The subject of email should be as follows: [Full name] – Application for Legal Intern: Research and assist arbitral proceedings at Hanoi office
* Only suitable candidates are contacted for interviews.
---
If you need further information, please contact:
VIETNAM INTERNATIONAL ARBITRATION CENTRE
Hanoi Head Office:
Address: 6th Floor, VCCI Tower (24-floor building), No. 9 Dao Duy Anh Street, Dong Da District, Hanoi
Tel: (+84)243.574.4001 - Fax: (+84)243.574.3001
Ho Chi Minh City Branch:
Address: 5th Floor, VCCI Building, No. 171 Vo Thi Sau Street, District 3, Ho Chi Minh City
Tel: (+84)283.932.1632 - Fax: (+84)283.932.0119
Email: info@viac.org.vn | Website: www.viac.vn