In order to support the business community, lawyers and many other people interested in updating a variety of information on the topic of dispute resolution by arbitration and related issues, Vietnam International Arbitration Center (VIAC) recently launches a series of webinars on dispute resolution by commercial arbitration in 2021 (2021 VIAC's Arbitration Series). This series promises to open a multi-dimensional and practical information forum, and the opportunity to exchange and discuss directly with domestic and international speakers who are reputable experts with deep expertise and practical experiences in the above mentioned areas.
WEBINAR 04:
CHOICE OF SEAT OF ARBITRATION FOR VIETNAM-RELATED DISPUTES – SHARINGS ABOUT ARBITRATION PRACTICE IN VIETNAM AND SINGAPORE
Event Time: 02PM Friday 25th June 2021
Format: Livestream on Zoom, Facebook and Youtube
TOPICS
What to consider when choosing a seat of arbitration for contracts with foreign elements in Vietnam?
Practical issues in arbitration procedures regarding seat of arbitration.
SPEAKERS
Keynote Speaker:
Dang Xuan Hop – Chairman of HopDang's Chambers, VIAC's Listed Arbitrator
Panel:
Edmund J Kronenburg – Managing Partner of Braddell Brothers, VIAC's Listed Arbitrator
Doan Nhat Minh – Senior Associate, VILAF
Dao Nhu Ngoc Linh – Counsel at VIAC Secretariat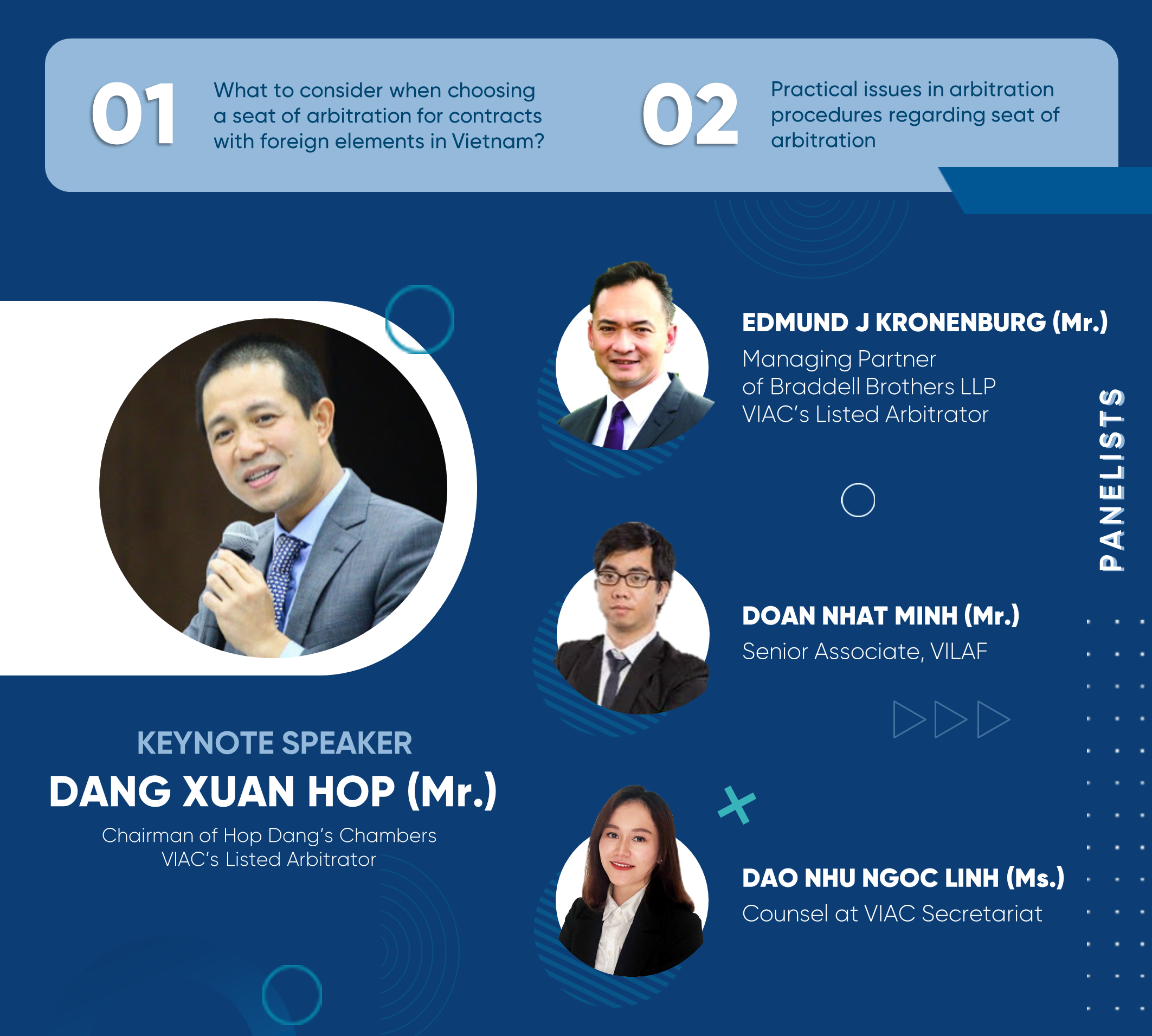 REGISTER & ATTEND
Please choose one of the following VIAC' channels to register and attend:
*Zoom Platform:
>>> Register at: https://zoom.us/webinar/register/WN_XH6ge-GHRTmqOykH8Cq0KQ
*Fanpage (Facebook):
>>> Visit here: https://www.facebook.com/viac.vn/
*Youtube Channel:
>>> Set reminder at: https://youtu.be/lu23xjJe8qU
---
*For more information and assistance with registration, please contact:
Department of Promotion & Training, Vietnam International Arbitration Center (VIAC)
Phone: 0243.574.4001 - Email: info@viac.org.vn