On the morning of May 8, 2023, in Hanoi, as a part of an event within the framework of the Vietnam ADR Week – VAW 2023, a Memorandum of Understanding (MoU) Signing Ceremony had been conducted between the Vietnam International Arbitration Centre (VIAC) and the Korean Chamber of Business in Vietnam (KOCHAM).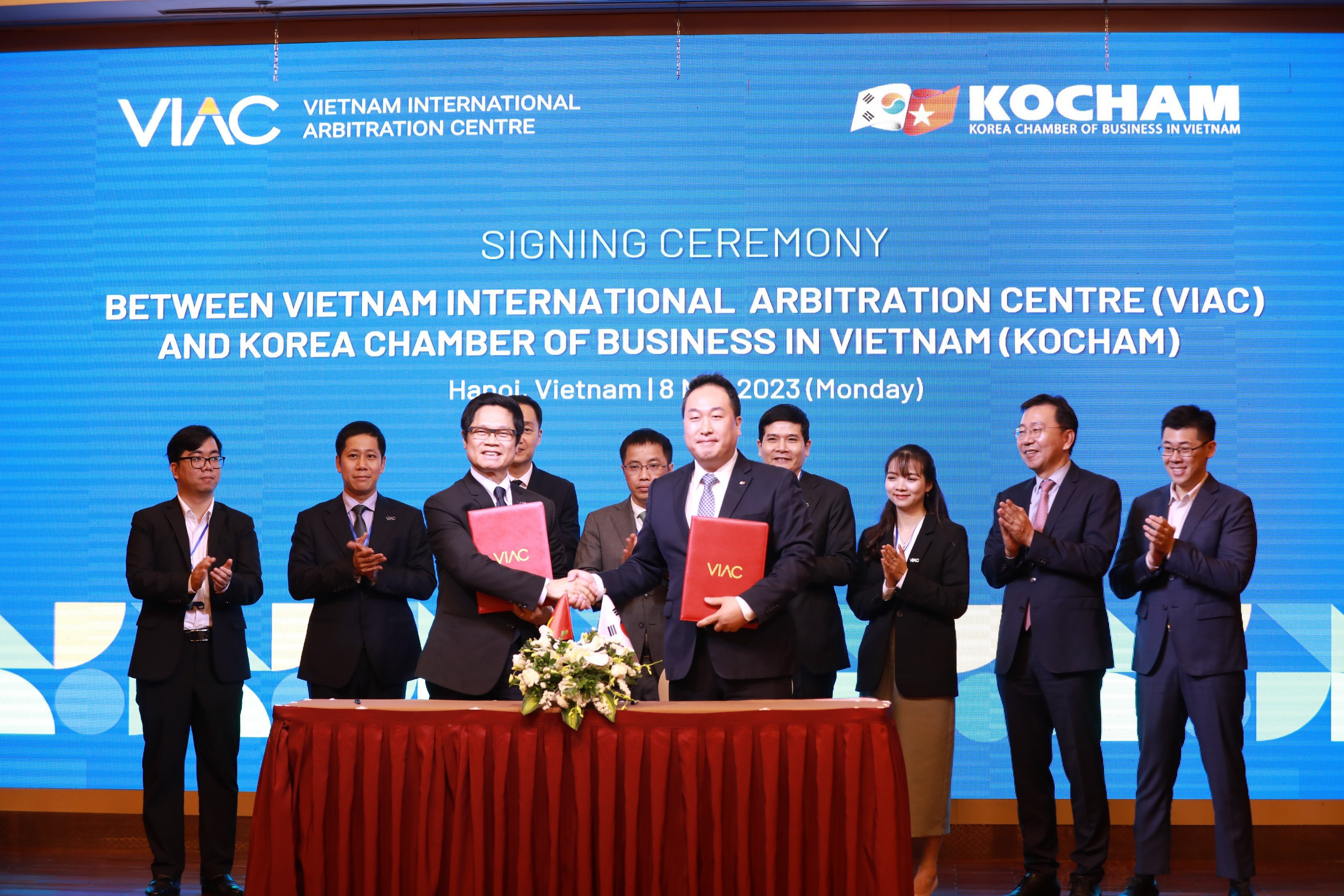 The Memorandum of Understanding (MoU) was signed by Dr. Vu Tien Loc – Chairman and President of the Vietnam International Arbitration Center (VIAC), and Mr. Hong Sun - Chairman of the Korean Chamber of Business in Vietnam (KOCHAM), in the presence of relevant representatives. The objective of this MoU is to foster collaboration between the two parties, as they share a same goal of supporting enterprises and investors in mitigating legal risks and resolving disputes that may arise during their investment and business activities in Vietnam through legal and efficient mechanism, which may contribute to promoting sustainable trade and investment between Vietnam and Korea.
Accordingly, this MoU is to encourage the collaboration of Parties that aims to (i) enhance the capacity of businesses in legal risks prevention and effective dispute resolution through out-of-court mechanisms; and (ii) facilitate the amicable, effective resolution of commercial disputes arising from businesses' activities. As part of the collaborative efforts outlines in the aforementioned MoU, the involved parties will coordinate to organize conferences, seminars, and training courses covering a wide range of subjects. These initiatives aim to benefit Vietnamese enterprises engaged in regular business transactions with Korean counterparts, as well as Korean enterprises investing in and operating businesses in Vietnam. Furthermore, both parties also committed to provide additional forms of support and legal assistance to effectively accompany and serve the Vietnamese and Korean business communities.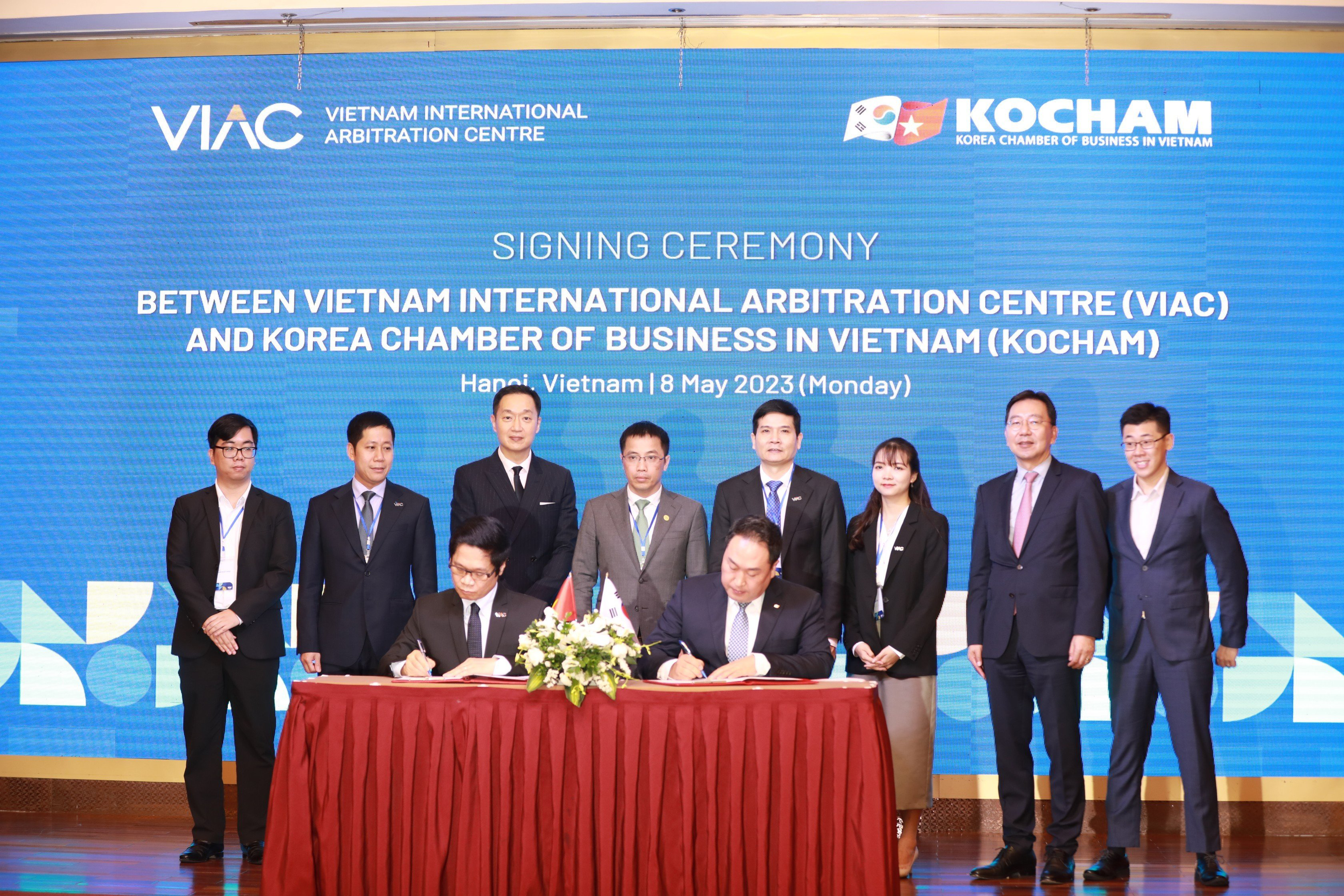 At the signing ceremony, Mr. Hong Sun, Chairman of KOCHAM, expressed his delight regarding the cooperation agreement between VIAC and KOCHAM and high expectations for upcoming activities. Mr. Hong Sun emphasized the importance of expanding partnerships and clientele to mitigate risks and elaborated on the significance of strengthening cooperation with strategic partners as the "safe harbors" for the business operation of Korean and Vietnamese enterprises. At the same time, he also shared his desire for Vietnam to continue its efforts in advancing reforms to create a more favorable legal environment, simplify or remove administrative procedures. These measures, he believed, would provide greater certainty for Korean investors seeking to establish long-term businesses in Vietnam.
From VIAC, Dr. Vu Tien Loc – Chairman and President of the VIAC, shared that while the Vietnam-Korean economic and trade relations have achieved remarkable milestones, it is crucial to address potential risks and uncertainties in the current global and regional economic landscape as managing legal risks and proactively preventing unexpected disputes in business and investment activities between Vietnam and Korea are of utmost importance. Dr. Vu Tien Loc also emphasized that, as the sole arbitration institution established under the Prime Minister's decision, dedicated to facilitating domestic and international dispute settlement, VIAC always strives to accompany the business community in investment and business activities.
Accordingly, VIAC and KOCHAM will actively carry out activities and promote trade activities, as well as become the fulcrum of justice for the two countries' business communities in the future.