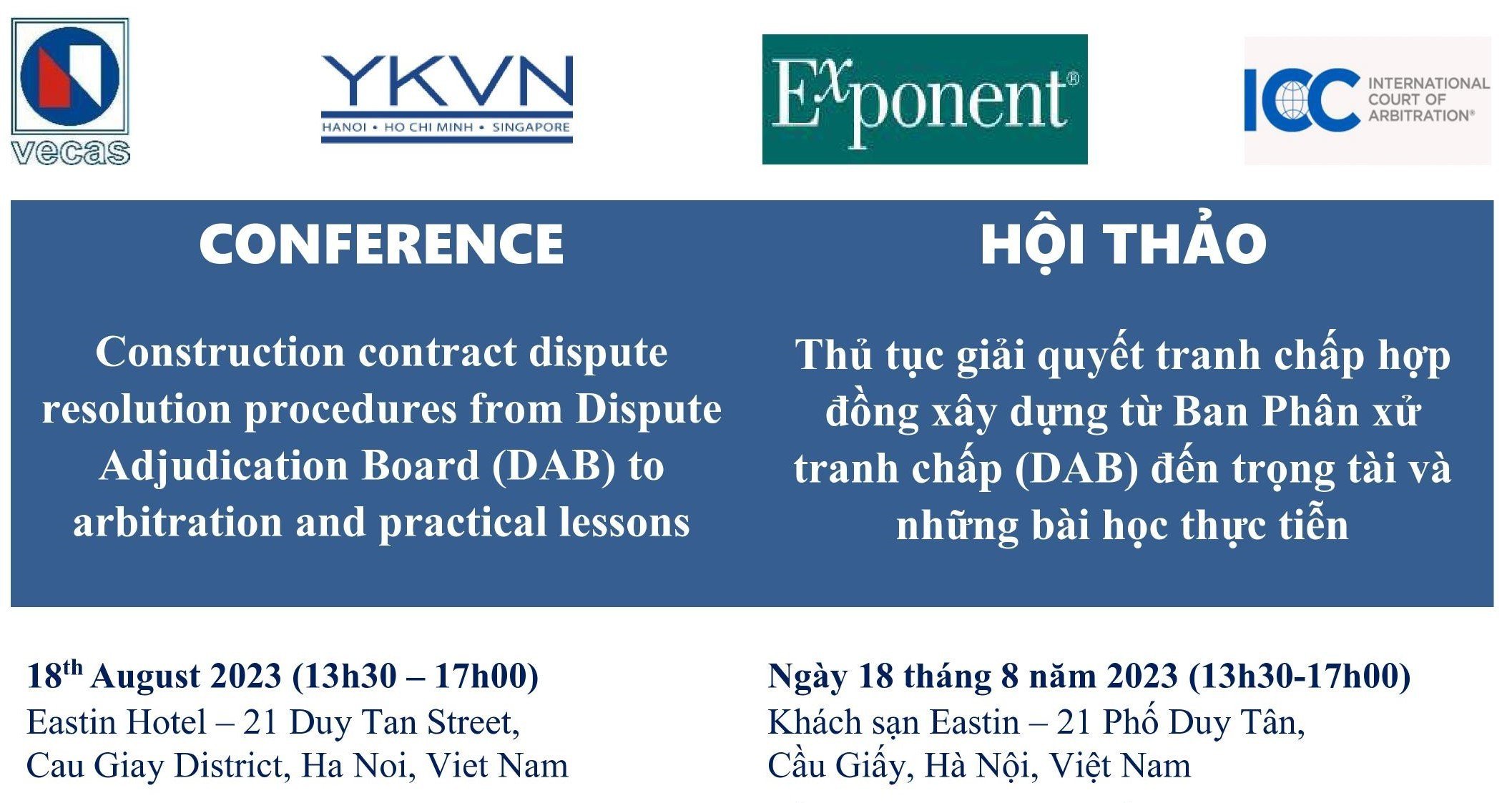 The dispute resolution mechanism through Dispute Adjudication Board (DAB/DAAB) under FIDIC is a contract administration mechanism, and disputes that are not resolved by the DAB or disputes that DAB decisions are not satisfied by either party will ultimately be resolved by arbitration. In fact, there have been many international construction arbitration cases (including ICC cases) after the parties attempted to resolve the disputes via DAB process.
With the aim of providing information on practical experience in construction dispute resolution and acting as a platform for both Vietnamese and international lawyers, arbitrators, and experts to share their knowledge, the Vietnam Engineering Consultant Association (VECAS) organizes a conference titled "Construction contract dispute resolution procedures from Dispute Adjudication Board (DAB) to arbitration and practical lessons". This conference is held in partnership with YKVN law firm, EXPONENT consulting firm, and ICC International Court of Arbitration, with the support of the Vietnam International Arbitration Centre (VIAC). The Conference will discuss the mechanism of construction contract dispute settlement through Dispute Adjudication Board (DAB), procedures to be considered from DAB to arbitration, and practical takeaways to minimize legal risks.
GENERAL INFORMATION
Time: 1.30pm – 5.00 pm, 18 August 2023 (Friday)
Venue: Eastin Hotel – No. 21 Duy Tan Street, Cau Giay District, Hanoi, Vietnam
Language: English – Vietnamese simultaneously
For further details, please see the Flyer (attached here)
SPEAKERS
Nguyen Thi Duyen, President of Vietnam Engineering Consultant Association (VECAS), VIAC Listed Arbitrator;
Do Khoi Nguyen, Partner, YKVN law firm (Singapore);
Tejus Chauhan, Director, South Asia, Arbitration & ADR, ICC International Court of Arbitration;
Peter Atkinson, Principal, Construction Consulting at EXPONENT, Fellow of Chartered Institute of Arbitrators (CIArb).
REGISTRATION
Registration fee: no fee charged
Deadline for registration: Before 15 August 2023
To register, please access via: https://docs.google.com/forms/d/e/1FAIpQLSf_txzzvmthh7Mgp0HeyFcb3mzxrrKG_LZ9gAUuSz8WcDpuRg/viewform
For detailed information and assistance, please contact Ms. Pham Thi Thu Hang (+84 90 325 2475) and Mr. Nguyen Minh Hoang (+84 94 481 7993).