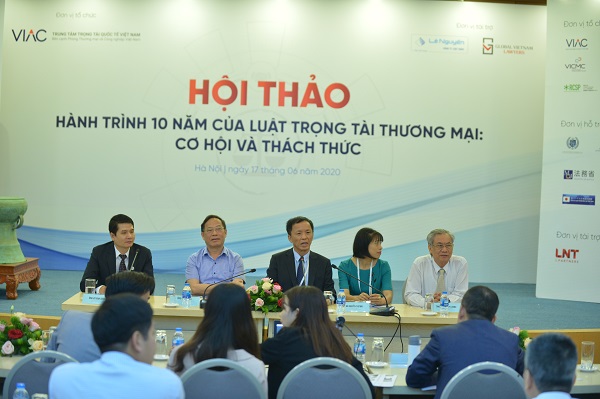 This morning (16 June, 2020), the Vietnam International Arbitration Center (VIAC) organised the Conference on "10-year journey of Law on Commercial Arbitration: Opportunities and Challenges". The Conference is within Vietnam Alternative Dispute Resolution Week 2020 (VAW2020 for short).
Speaking at the seminar, Lawyer Tran Huu Huynh, President of Vietnam International Arbitration Center (VIAC) emphasised that the 10 years of enforcement of the Law on Commercial Arbitration is neither too short nor too long.
"Compared to the country's integration process, 10 years of the Law on Commercial Arbitration is a relatively long time. In 10 years, we had a key legal framework and a sufficiency of guidelines in arbitration. During that time, we have nearly 30 arbitration institutions with thousands of qualified arbitrators", Mr. Huynh stated.
According to Mr. Huynh, compared to the current legal system, the 10-year period of applying the arbitration law is a fairly short period; however, in the process of implementation, Law on Commercial Arbitration has proven to be an essential legal framework for arbitration.
"Over 10 years of being enforced, Law on Commercial Arbitration has contributed to promoting the development of arbitral activities so that they are increasingly received by the community. The number of disputes resolved by arbitration also experiences a significant growth. However, the practice of this legislation does reveal limitations that need to be further improved, especially in the context of Vietnam's accession to a series of new generation free trade agreements with high standards", Mr. Huynh emphasised.
For his part, Prof. Dr. Dao Tri Uc, Chief Editor of the Law on Commercial Arbitration, Former Permanent Vice President cum General Secretary of the Vietnam Lawyers Association highlighted what Law on Commercial Arbitration in 2010 achieved: fulfilling practical needs, at the same time satisfactorily solving the problems of amending legislations on commercial dispute settlement activities.
At the same time, Mr. Uc affirmed that the Law on Commercial Arbitration is relatively compatible with international standards of arbitration (UNCITRAL Model Law on International Commercial Arbitration 1985; amendment and supplemented in 2006).
As for VIAC, in recent years, the number of construction disputes referred to VIAC for resolution is increasing. They account for about 10% of disputes resolved at VIAC on average and are cases of the greatest value and with the highest complexity. With a team of arbitrators who are leading experts on construction and construction law in Vietnam, VIAC has resolved many large disputes with hundreds of millions of dollars in value.
From 2011 to 2019, VIAC resolved 1,259 disputes, which was an increase of 336% compared to the period from 2003 to 2010. The disputing parties come from over 60 countries and territories around the world. The quality of dispute resolution is progressively better. Arbitrators are trained and are able to exchange experience in dispute resolution. The process is increasingly improved and developed. Dispute settlement time is reduced.
VIAC has also applied information technology to facilitate the resolution of disputes, ensuring flexibility and convenience by means of organizing online sessions, teleconference, video-conference, etc., which saves time and costs for disputing parties when participating in arbitration.
Credit: https://enternews.vn/giai-quyet-tranh-chap-bang-trong-tai-thuong-mai-giam-ap-luc-cho-toa-an-tiet-kiem-thoi-gian-va-chi-phi-175439.html