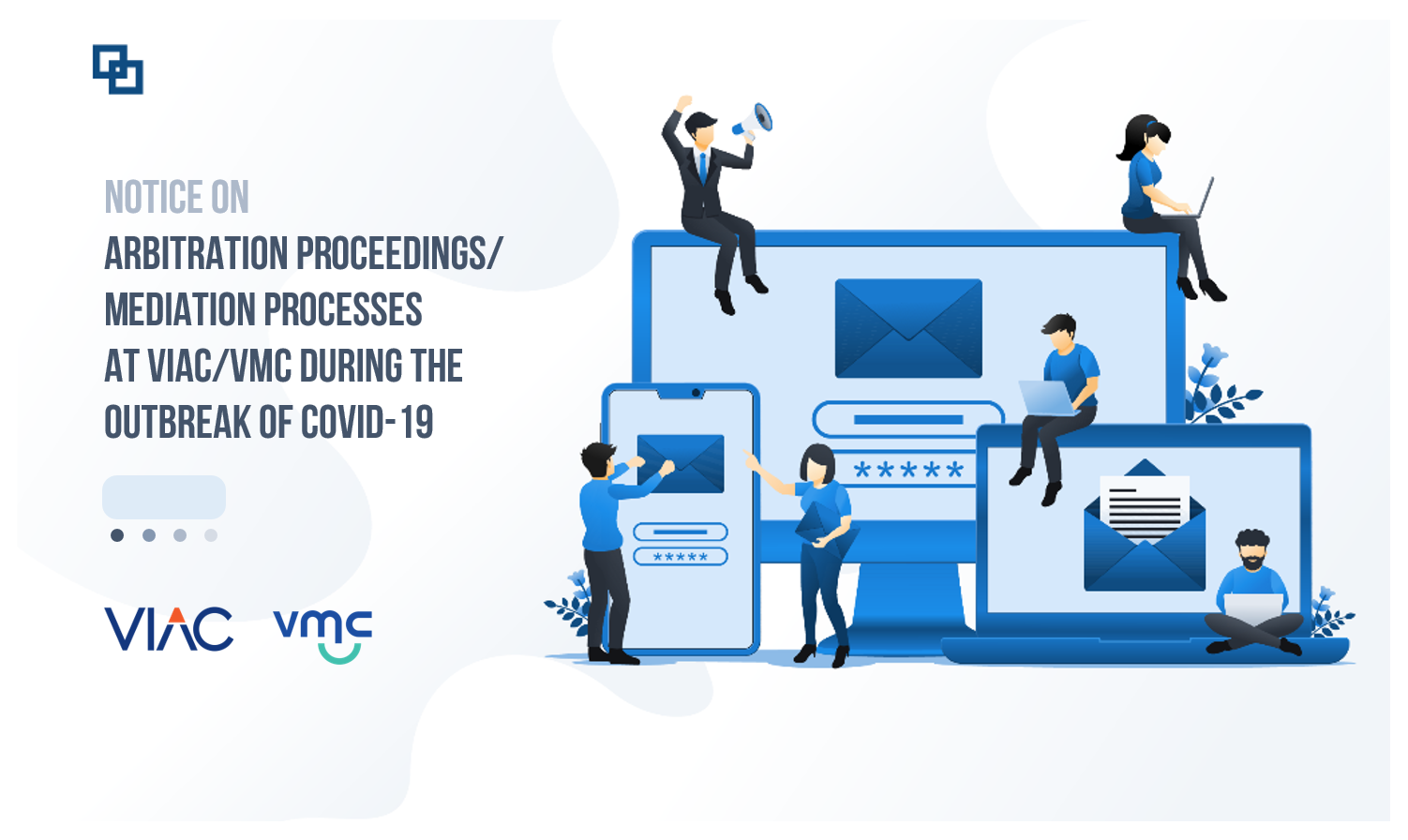 NOTICE ON ARBITRATION PROCEEDINGS/ MEDIATION PROCESSES AT VIAC/VMC DURING THE COVID-19 PERIOD
In the context of the COVID-19 pandemic is in danger of improvising the complex, it is still complicated with the number of new cases continuing to increase with the recognition of the new variation of the virus that is likely to spread faster and more dangerous, the Vietnamese Government has strengthened the implementation of measures to prevent and control epidemics in order to ensure the people's health and to facilitate the implementation of socio-economic development objectives.
In order to comprehensively implement the directions of the Government in exercising safety measures and minimizing risks of disease transmission; and at the same time, to ensure prompt proceedings of your dispute resolution to avoid any potential effects to your legitimate arbitral rights, we kindly ask you to consider and being noted of the following:
(1) The operation time of VIAC's head office and VIAC HCMC branch is kept as normal without disruption, from 8.00 AM to 5.00 PM, every weekday.
(2) All communications and circulation of documents are highly recommended to be via phone, email, postal delivery, and other possible/available means of non-face-to-face communication.
In specific:
For general queries regarding arbitration/mediation services at VIAC/VMC, please email to info@viac.org.vn/info.vmc@viac.org.vn; for other question related to on-going cases at VIAC/VMC, please contact Secretariat for instruction (In Hanoi: (024) 3574 4001, in Ho Chi Minh City: (028) 3932 1632);
Should you wish to commence arbitration proceedings with VIAC or mediation processes with VMC, please send your request for arbitration/ request for mediation by post to our offices (VIAC's head-office at No. 9 Dao Duy Anh, Dong Da, Hanoi or VIAC Ho Chi Minh city branch at No. 171 Vo Thi Sau, District 3, Ho Chi Minh City), and submit the corresponding soft copies (if any) to our official mailbox of info@viac.org.vn/info.vmc@viac.org.vn;
To communicate your statement of defence or any other documents in on-going proceedings; please send the hard copies by post to VIAC's head-office or VIAC HCMC branch, and also send the soft copies (if any) to info@viac.org.vn/info.vmc@viac.org.vn;
All letters, notices and other documents from VIAC/VMC shall be served to parties by postal delivery and via email (as provided by parties). You are recommended to provide us with updated, secure and correct email address(es) for receiving notifications and documents from VIAC/VMC promptly.
In case of emergency and when it is crucially required a face-to-face meeting with VIAC/VMC staff, please follow the recommended epidemiological and hygienic safety requirements (wearing face mask and using hand sanitizer).
(3) VIAC encourages the parties to be content with non-physical hearings/meeting (i.e. preliminary meeting) by means of tele-conference and/or video-conference. In the event of no mutual consent reached by parties regarding online oral hearings, the oral hearings shall be conducted in person and strictly followed the regulations on hygiene and epidemiology.
VIAC would like to thank you for your understanding and cooperation and wish you health and safe business.
Kind regards.