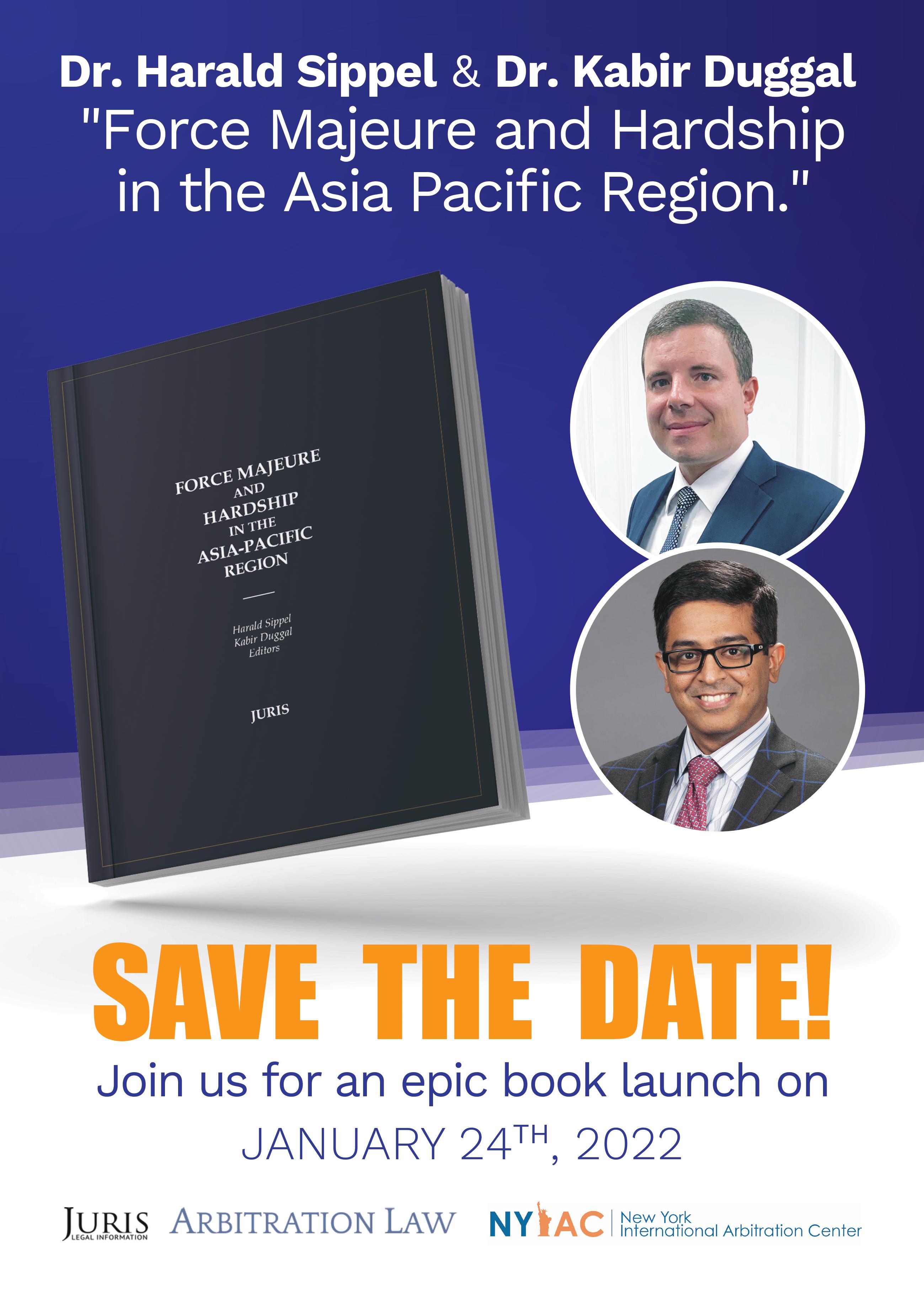 The Covid-19 pandemic persists with new variants emerging. Now almost two years in, governments continue to impose lockdowns, travel restrictions, and other measures to contain the spread of the virus. Interruption to business is broader, including the impact of global natural disasters: hurricanes in the Americas, tsunamis in Asia, volcano eruptions in Iceland. Match this with human error akin to the 2021 Suez Canal Blockage, and important narratives about causation unfold.
Dr. Harald Sippel and Dr. Kabir Duggal together with NYIAC cooperated to prepare a launch on a book entitled "Force Majeure and Hardship in the Asia Pacific Region." This book provides a comprehensive discussion of these topics in and across 17 jurisdictions. Accordingly, Mr. Nguyen Trung Nam (VIAC's Listed Arbitrator) has also participated in writing a chapter about Vietnam situation. VIAC is honored to participate in this event as one of the supporting units.
GENERAL INFORMATION
Event Date: Monday, 24th January 2022
Time: 7:00 am - 8:30 am (ET)
Details: View Event Flyer (Here)
Speakers:
Professor Rekha Rangachari - Executive Director of the New York International Arbitration Center (NYIAC);
Professor Lucy Reed - President of the International Council for Commercial Arbitration (ICCA) and a Vice President of the Singapore International Arbitration Centre Court, VIAC's Listed Arbitrator;
Professor Dr. Mohamed Abdel Wahab - Founding Partner and Head of Arbitration at Zulficar & Partners Law Firm;
Dr. Harald Sippel - BIAMC's Academic Director, Founder at Putilin Sippel, Senior Legal Advisor at Schinder Law Firm;
Dr. Kabir Duggal - Counsel, Arbitrator of Arnold and Porter's New York office;
Mr. Christopher Lau - Senior Counsel and Chartered Arbitrator;
Mrs. Chiann Bao - Independent Arbitrator and Member, Arbitration Chambers, Hong Kong/New York/London;
Mrs. Yoshimi Ohara - Arbitrator, Partner at Nagashima Ohno & Tsunematsu, VMC's Listed Mediator.
>>> Register here and purchase the book here.
ORGANIZERS

PARTNERS