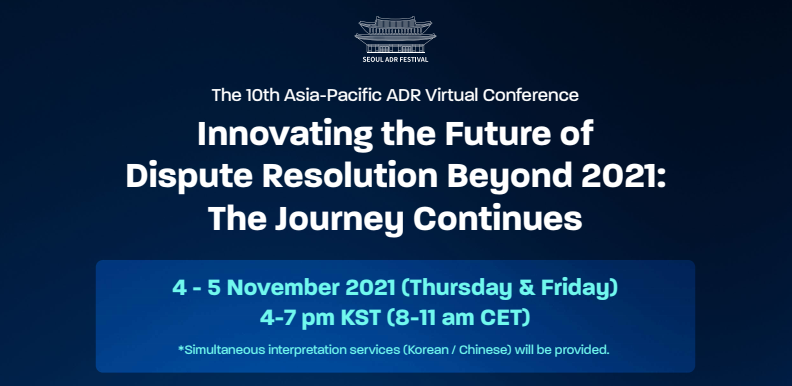 *Category: VIAC Supported events
The Asia-Pacific ADR Conference is an event where leading experts around the world discuss on recent ADR issues and share their insights. Over the years, it has become one of the most renowned and major ADR events in the Asia-Pacific legal community. The 10th Asia-Pacific ADR Conference is to be the flagship event of Seoul ADR Festival (SAF) 2021. This event will be hosted by KCAB INTERNATIONAL together with UNCITRAL, the ICC International Court of Arbitration, Seoul IDRC, as well as the Ministry of Justice of Korea. In addition, the event will feature keynote speeches and discussions by global leaders in the field of international arbitration. VIAC is honored to participate in this event as one of the supporting organizations.
THE 10TH ASIA-PACIFIC ADR VIRTUAL CONFERENCE – INNOVATING THE FUTURE OF DISPUTE RESOLUTION BEYOND 2021: THE JOURNEY CONTINUES
Event Date: Thursday, 4 November & Friday, 5 November 2021
Time: 4-7 pm KST (8-11 am CET)
Schedule: View Event Flyer (Here)
*Simultaneous interpretation services (Korean/Chinese) will be provided.
CONTENTS
Session 01: Pioneering changes in times of uncertainty
Session 02: Changes and Proposals for better practices in International Arbitration: Challenging conventions and customs in Arbitration practice
Session 03: Refining Rules and Structures of ISDS mechanism
Session 04: Rising industries in the Post-Covid world and How to make arbitration more user-friendly
REGISTER & ATTEND
For reference, the details of this event, including registration instructions and networking, can be found at the link below.
>>> Link: https://www.conference.seouladrfestival.com/
ORGANIZERS

SUPPORTING ORGANIZATIONS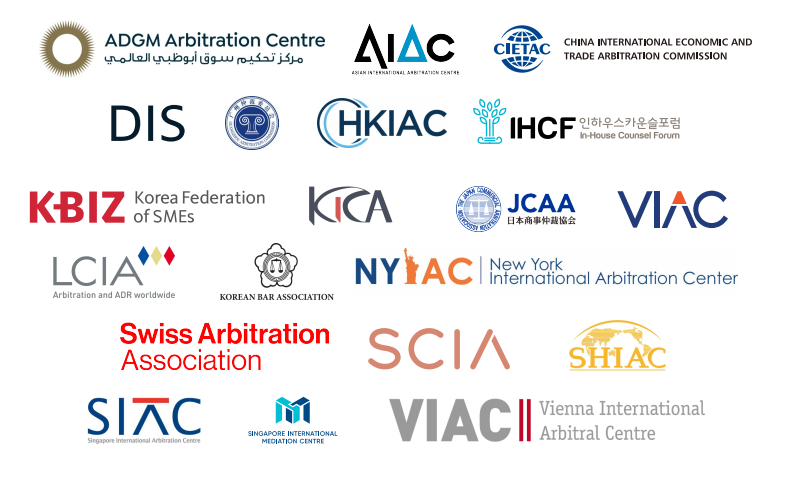 ---
*For more information and assistance with registration, please contact:
Website: www.seouladrfestival.com | Email: saf@kcab.co.kr