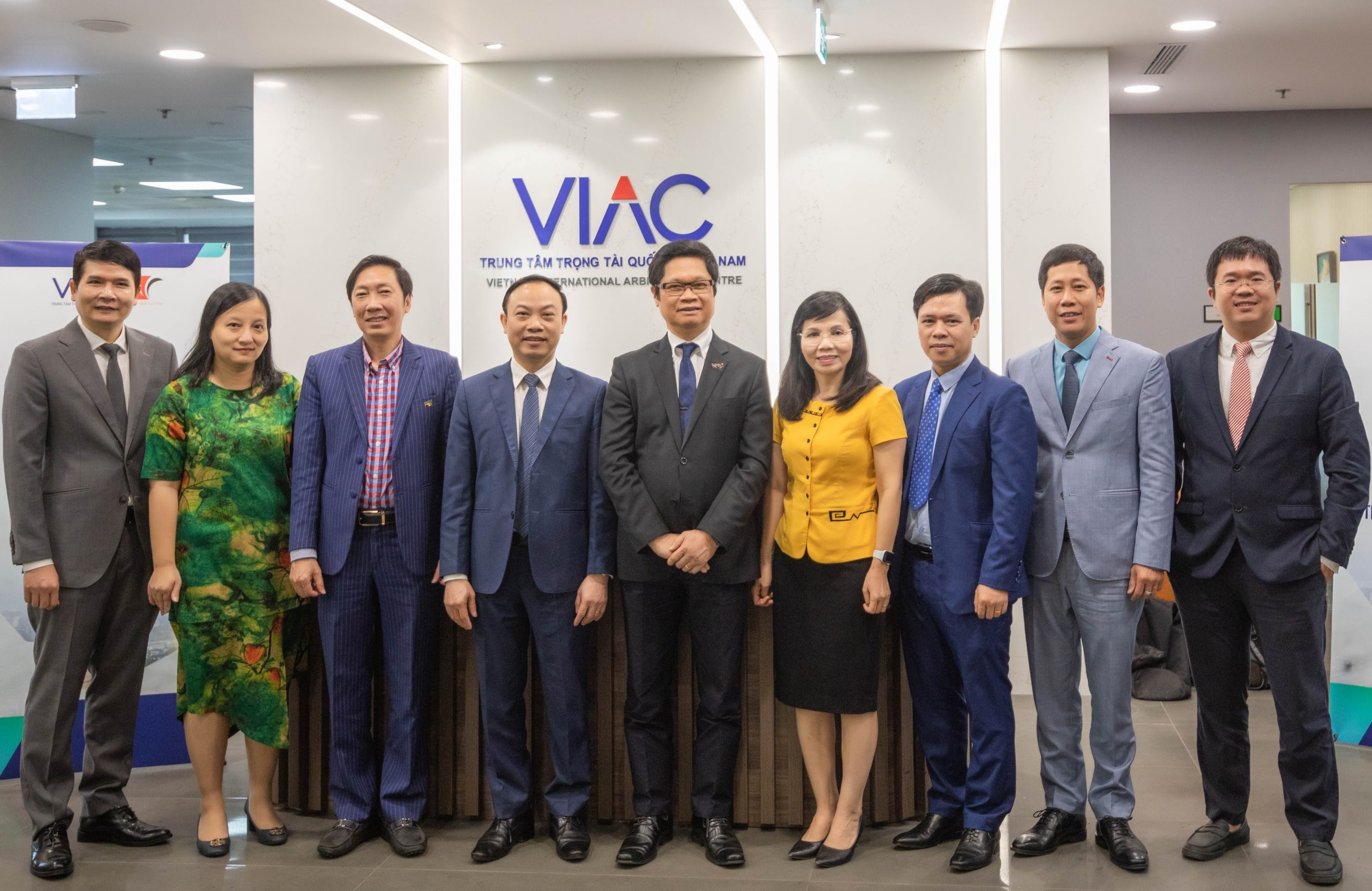 The representatives from Viet Nam International Arbitration Centre (VIAC), Viet Nam Institute for Arbitration Research and Training (VIART) and various institutes for legal education in Hanoi
VIART is a division established by VIAC. As the first arbitration organization in the field of dispute resolution in Vietnam's market, with almost 30 years of operation, advantage of practical experience in using arbitration to settle disputes, understanding of arbitration market, as well as a team of professional experts in various fields, VIAC believes that the foundation of VIART is an essential and inevitable step, the result of continuous preparation efforts in all aspects to establish a research and training organization for international arbitration in Viet Nam.
It is an honor that the ceremony welcomed the leaders of the Minister of Justice, partners' representatives, representatives of other agencies, together with arbitrators, experts, lawyers, jurists and online participants. The ceremony also received positive support from press and media agencies.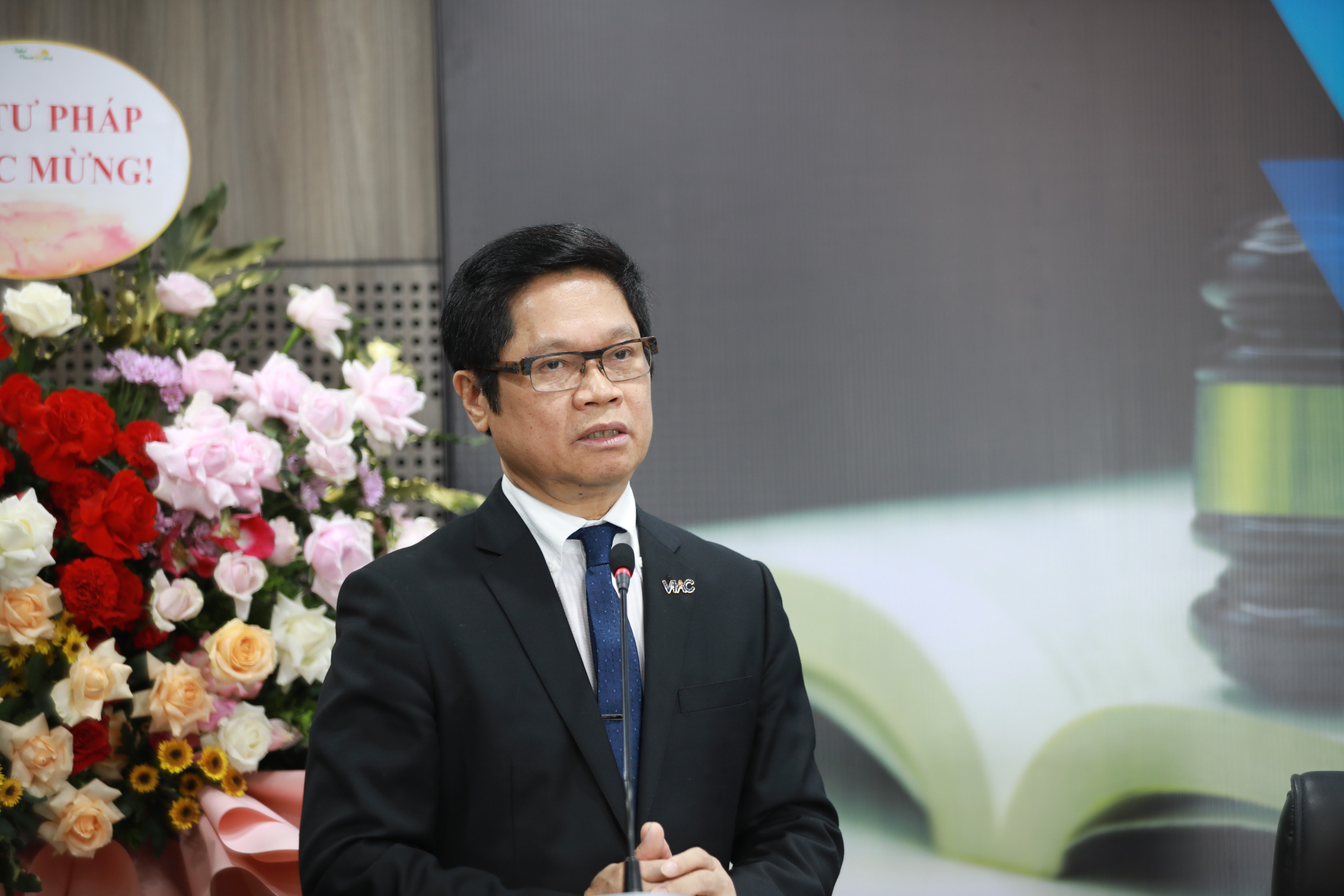 Dr. Vu Tien Loc – President of Vietnam International Arbitration Centre (VIAC) delivers the opening speech of the ceremony
At the ceremony, Dr. Vu Tien Loc – VIAC's President, officially announced the Decision to establish Vietnam Institute for International Arbitration Research and Training (VIART), and at the same time, appointed Assoc. Prof Dr. Pham Duy Nghia as Director and Prof. Dr. Do Van Dai as the Deputy Director of the Institute.
Dr. Pham Duy Nghia, on behalf of VIART's board of directors, delivered a message to the guests and partner. In his speech, he affirmed that the establishment of VIART is an important milestone and a developing step in the plan to promote ADRs in Viet Nam and build a community of professional arbitration practitioners and users. He emphasized that with the mission of proactively orienting the development of arbitration in Viet Nam and the vision to reach out into international market, VIART focuses on research and training activities. In particular, regarding research activities, VIART focuses on basic and in-depth research on procedural and substantive issues in the field of dispute resolution alternative methods, serving as a premise to build a database for the development of the ADRs practicing and researching community. Simultaneously, VIART aims to research and contribute to making laws in general and specialized law in particular, especially in the fields where disputes are settled by arbitration.
| | |
| --- | --- |
| | |
VIART's Board of Directors had talks at the ceremony of launching VIART
Regarding training activities, through training courses on arbitration knowledge and skills for diverse participants, with suggestion on career pathways, VIART focuses on developing human resources with the forefront purpose to popularize arbitration knowledge, thereby building a community of professional practitioners and users with standard of conduct appropriate for Vietnamese market and close to the international market.
During the ceremony, VIAC signed an agreement to cooperate with Ho Chi Minh Law University, National Economic University and Judicial Academy of Vietnam as the foundation to carry out the goals of researching and training in an effective and time-efficient manner. VIAC also intends to continue cooperation agreements with other education institutions in Viet Nam and in the world in the upcoming time.
The Signing ceremony of cooperation agreement between VIAC and other education institutions
Along with the Opening Ceremony of Vietnam Institute for International Arbitration Research and Training, the Forum on discussion of commercial arbitration training activities in Vietnam also took place in the exciting atmosphere and participation of attending guests, including representatives of domestic and foreign education institutions. At the forum, the invited guests discussed the reality of arbitration training in Viet Nam, and what has been, is, and will need to be enhanced in the coming time in order to train the next generation for the domestic arbitration market, contributing to the development of arbitration and ADRs. The seminar also answered attendees' questions about VIART's training activities, especially within the framework of cooperation with other education institutions.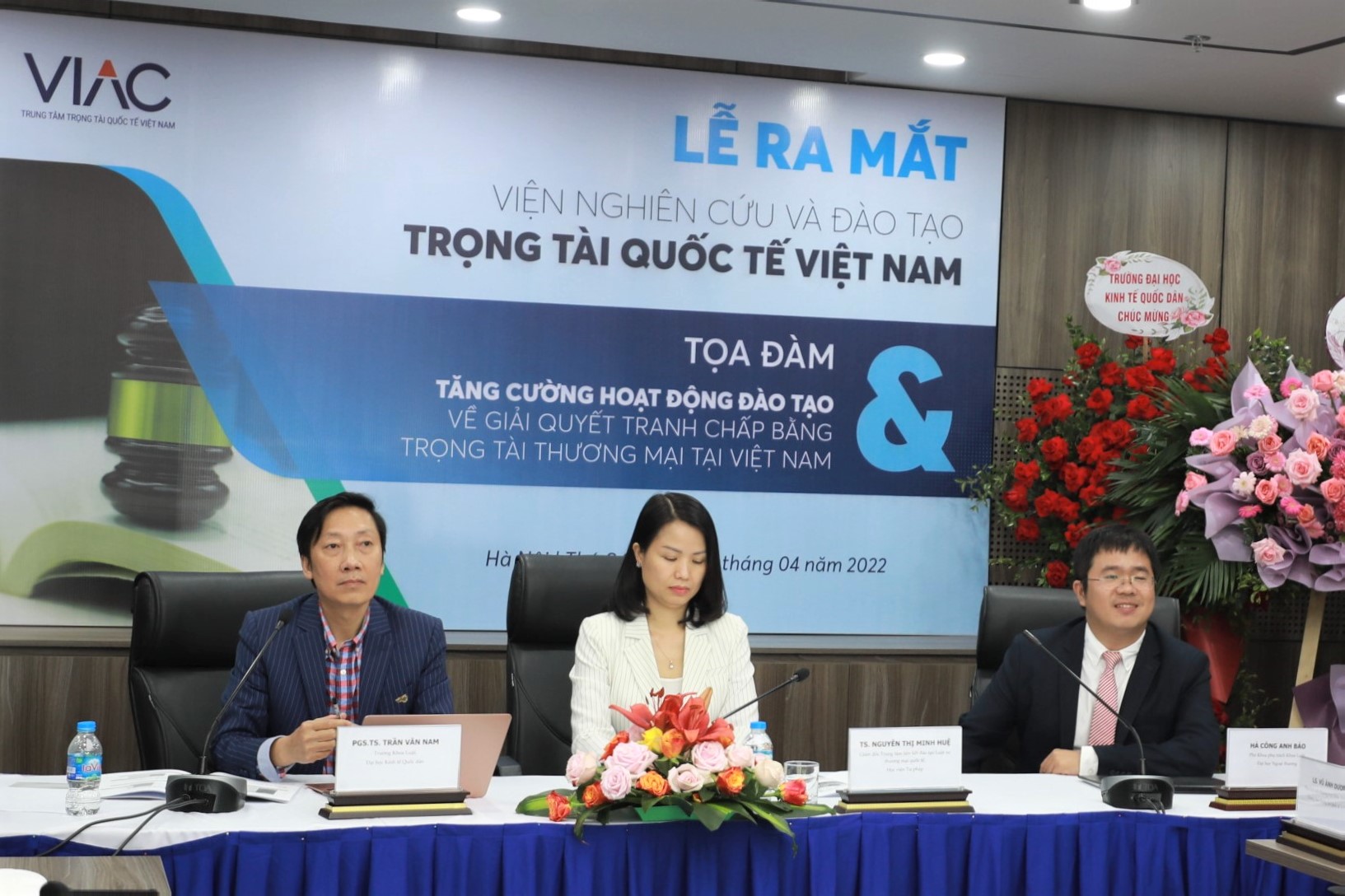 The discussion session on the practice and potential of enhancing training activities on dispute resolution through commercial arbitration in Vietnam
In the coming time, VIART will organize the first arbitration courses with programs providing basic and in-depth arbitration knowledge as well as skills with flexible schedule for diverse participants. With a team of trainers as experienced experts and partnership support of domestic and foreign education institutions, VIART is confident to provide the trainees with not only knowledge, experience, but also the companionship and the connection with arbitration community, as well as many other special benefits.