On June 17, 2010, the 12th National Assembly of the Socialist Republic of Vietnam enacted the Commercial Arbitration Law in the 7th session. Over the past 10 years, commercial arbitration in particular and alternative dispute resolution (ADR) have made significant progress, showcasing the initial success of State's policy supporting dispute resolution through arbitration. These 10 years also marked the remarkable development in the activities of Vietnam International Arbitration Centre (VIAC) and Vietnam Mediation Centre (VMC) under VIAC.
In commemoration of this event, VIAC cooperated with nearly 20 different partners to organize Vietnam ADR Week 2020 - Vietnam ADR Week 2020 (VAW 2020). Detail as follows:
TIME, PLACE
Time: June 15-19, 2020
Location: in Hanoi and Ho Chi Minh City
Form: conducted live on site and online on VIAC's official online channels
REGISTRATION
* Online attendance:
Please see the online registration link in the information table below and complete required information.
* Live on site attendance:
Due to strict implementation of pandemic prevention as directed by the Prime Minister, week events will limit the number of attendees. If you would like to attend on-site, please email the Promotion and Training Department to register (phone: 0243.574.4001, email: sukien.viac@gmail.com ).
Please provide the following information in the email:
TIMELINE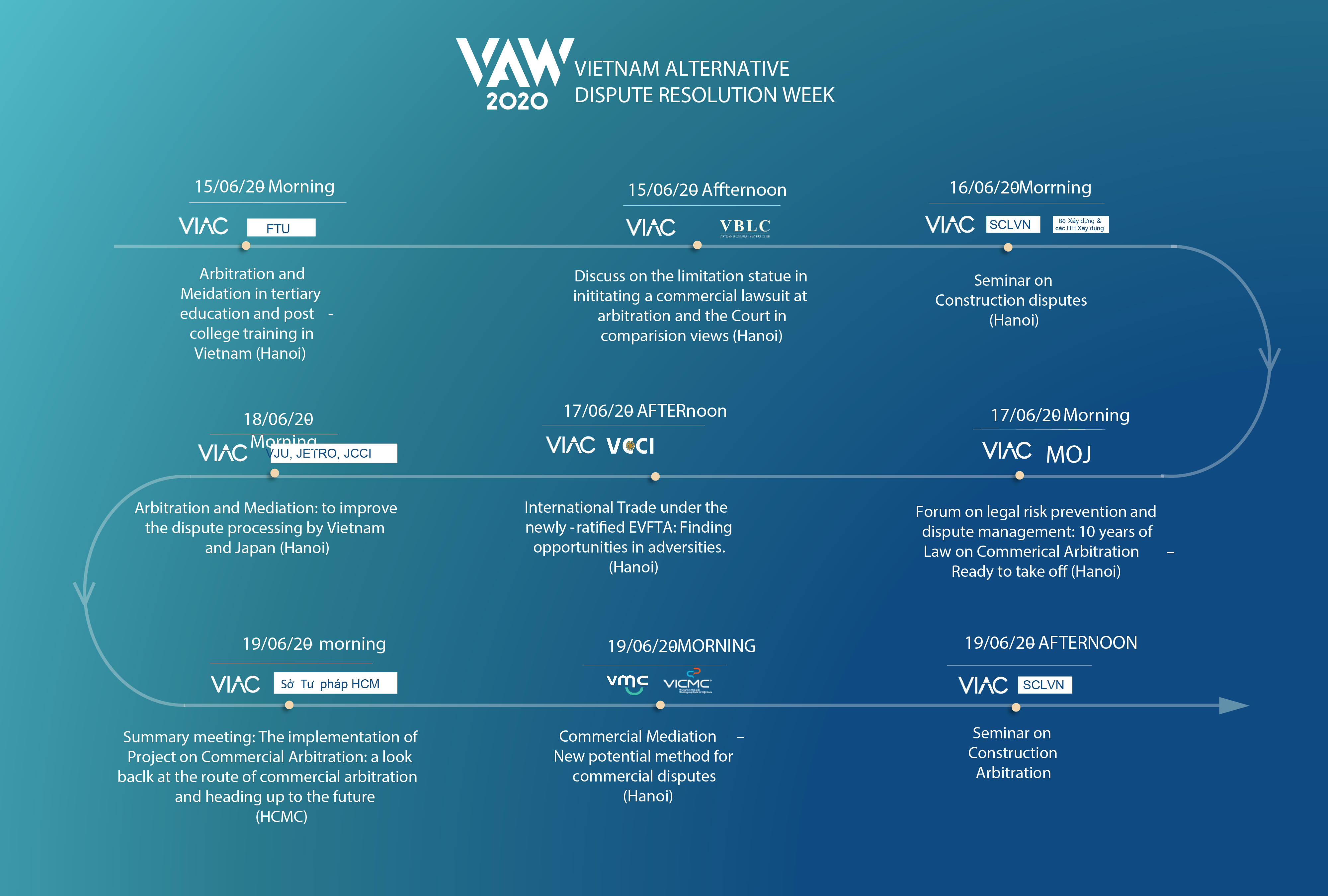 All details are updated regularly on VIAC's official online channels:INFORMATION UPDATE
OFFICIAL TRAILER
Official Trailer of Vietnam Commercial Arbitration and Mediation Week 2020 - VAW 2020