On 18 August 2022, Dr. Vu Tien Loc – The President of the Vietnam International Arbitration Centre (VIAC), Ms. Vu Thi Hang – Head of International Cooperation, have a working session with the representatives of Friedrich Naumann Foundation in Vietnam (FNF) - Prof. Dr. Andreas Stoffers, National Director in Vietnam, and Ms. Vu Quynh Duong, in charged of Project and Communication. During the working session, both parties discussed cooperation opportunities in promoting free trade activities and dispute resolution in Vietnam.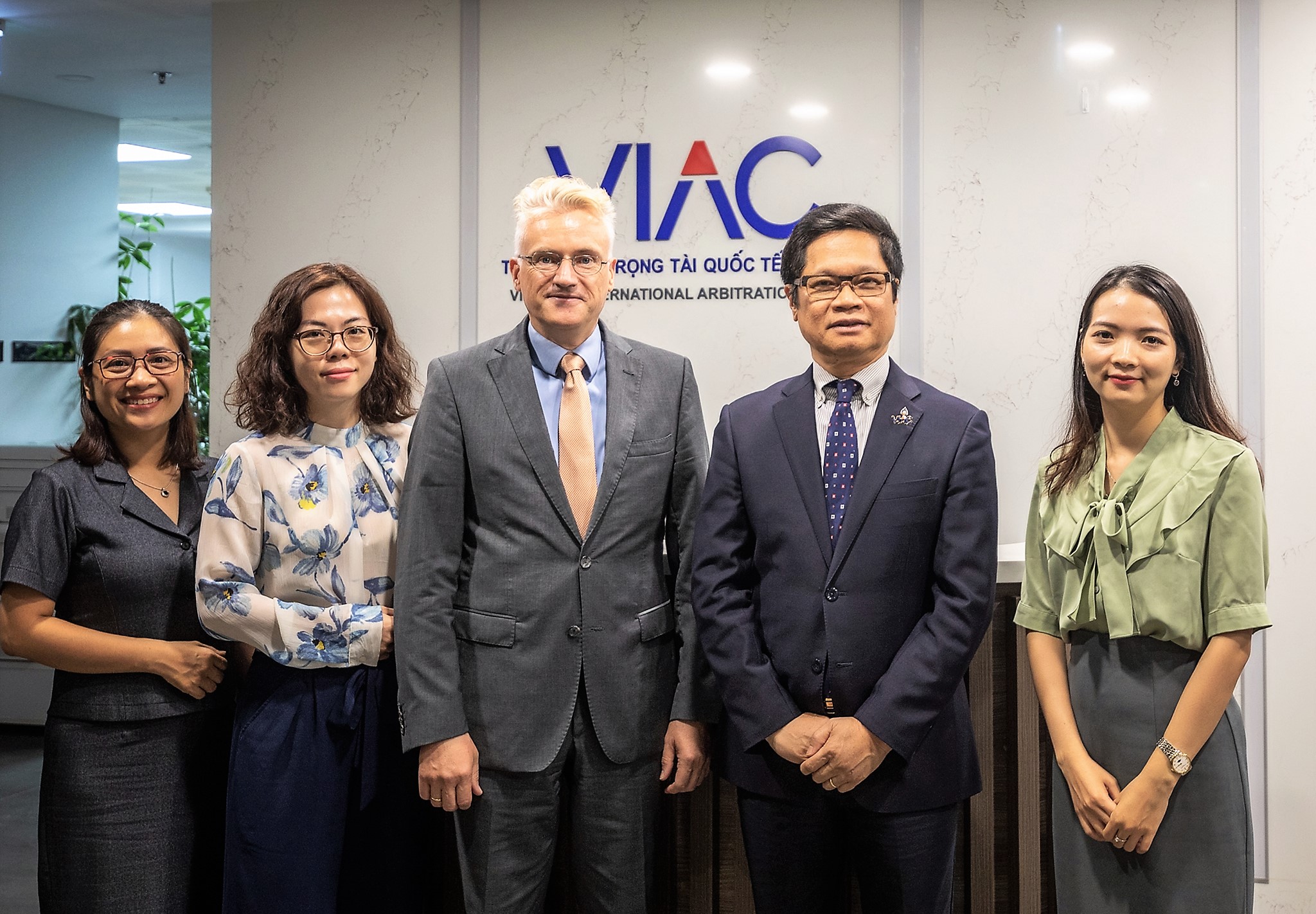 Representatives from VIAC and Friedrich Neumann Foundation (FNF)
From VIAC's perspective, Ph.D. Vu Tien Loc – President of the Centre, shared some infinitives on VIAC's vision and mission of VIAC as the leading arbitration and mediation in Vietnam. Besides fulfilling the function of an arbitration centre providing quality arbitration and mediation services for our economy, but also to promote institutional reform to improve Vietnam business environment, and to contribute to leveling up the capacity of Vietnamese enterprises in terms of contractual knowledge, legal risk management, and dispute avoidance and resolution to be effectively adaptable to the world of uncertainties.
The representatives from FNF, Prof. Dr. Andreas Stoffers introduced Friedrich Naumann Foundation is a non-governmental organization of the Federal Republic of Germany established in 1958 and opened Project Office in Vietnam since 2012 with activities focusing on supporting Vietnam in building the market economy and international integration. Recently, FNF has carried out numerous studies, seminars, and professional activities focusing on capability enhancement while promoting academic exchanges between Vietnam and Germany through a variety of cooperation projects with partners such as Vietnam Institute for Economic and Policy Research (VEPR), Institute for European Studies (IES), University of Economics - Vietnam National University, Hanoi (UEB-VNU) etc.
Prof. Dr. Andreas Stoffers also expressed his concurrence that in the current context, when arbitration, mediation, and alternative dispute resolutions (ADRs) are increasingly proving their importance in the economic integration industry, improving the awareness of communities on ADRs as well as strengthening and enhancing the capacity of ADRs users is extremely important.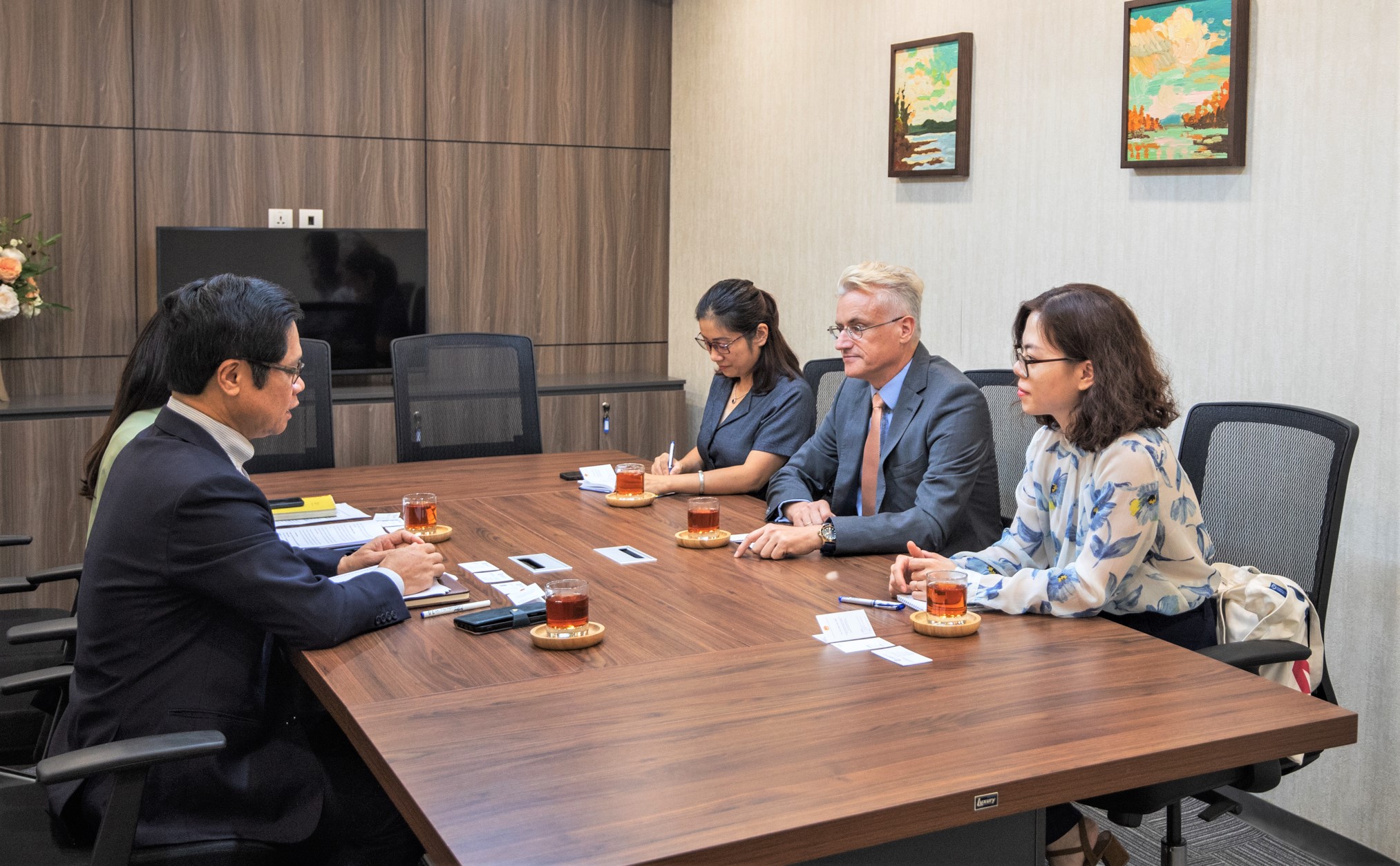 Panoramic of the meeting
Accordingly, parties have discussed on the cooperation project to jointly publish Publications to serve the business community in general and the FDI enterprises and foreign investors in particular. These Publications shall focus on practical information for investment and business activities in Vietnam, including experience and guidance for risk avoidance, risk management in M&A activities or when forming a new company in Vietnam. These Publications will also provide a wide range of information from basic to advance, giving updates on international trends of alternative dispute resolutions (ADRs) and aiming at improving commercial business dispute resolution and as a whole, contribute to improving the investment and business environment in Vietnam. Besides, both parties also expressed their desire to cooperate in other activities to raise public awareness in utilizing arbitration as a commercial dispute settlement method; and enhance the capacity of ADRs users in Vietnam.