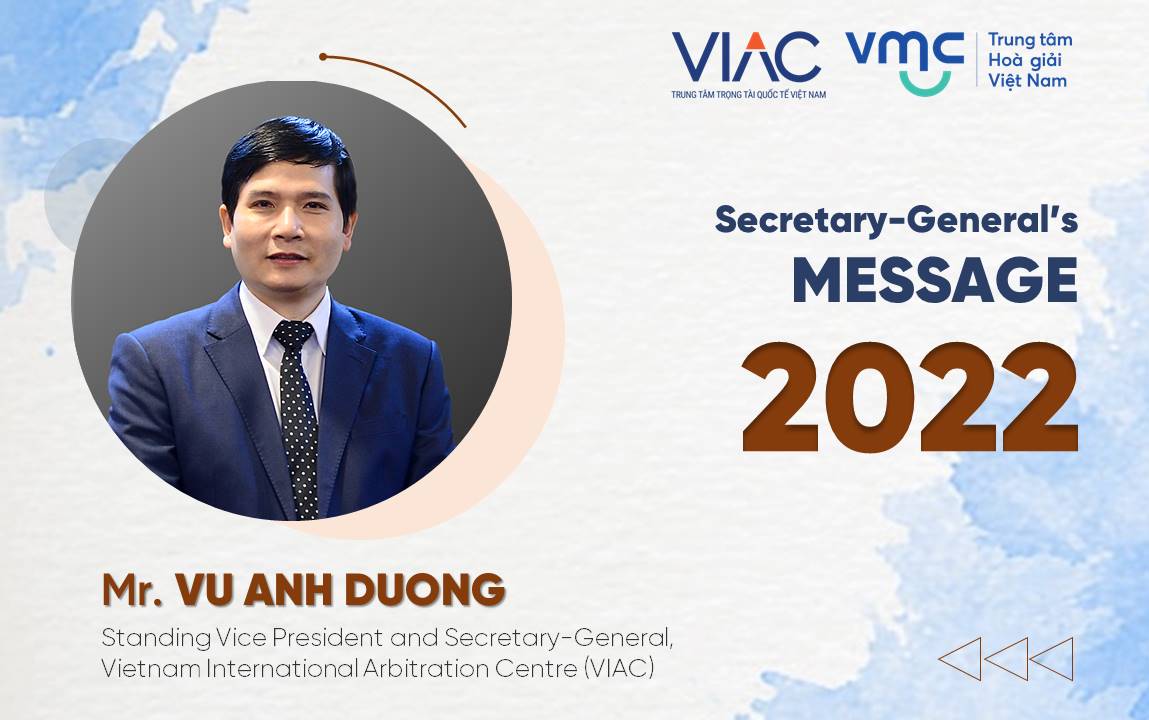 "Tough times don't define you; they refine you."[1]
Dear all,
2021 was a heart-wrenching and endurance time for Vietnam and also an arduous journey for VIAC since everything was in stagnation. However, as an arbitration institution, we always bear in mind our mission of facilitating effective dispute resolution as an essential element of the business environment of Vietnam.
In 2021, the number of new arbitration cases administered by VIAC returned to its rising tendency and had grown 21% from 2020 with a total value of dispute of 5.500 billion VND. A noticeable portion of which are disputes involved import and export of medical equipment supply or disruption in international business cooperation projects, which well reflected the destruction and adversity of the international and domestic economy due to the pandemic.
The application of nationwide social distancing orders during the second quarter has significantly affected the arbitration proceedings; nevertheless, taking advantage of the flexibility of arbitration and mediation, we have promptly adapted to minimize delays by employing online tools in service of notices and in holding e-meetings and e-hearings. The Counsel team was available online around the clock for any new request for arbitration, submissions, or queries from disputing parties in any time zone. Over 240 meetings and hearings were organized either virtually or physically, and around 120 of which were conducted within just four months from October to December 2021. Prominently, we have successfully hosted virtual hearings with multiple international connection ends, remote simultaneous interpretation, remote live transcription service, witness e-interview and witness e-cross-examination.
In 2021, our online platform for e-mediation was officially launched, bringing new experience and convenience for mediation parties. It is also the first milestone by VIAC to proceed with constructing and providing its online arbitration services in the coming time.
It is the motivation for us to prepare for the outburst of self-renovation as we believe the hardship caused by the pandemic has wiped out all the non-essentials and forced us to focus on what really matters – quality of arbitration proceedings. Steered by reinventing-ourselves spirit, the Procedural guidance for arbitral tribunals conducting arbitration at VIAC, Procedure for Arbitrator Appointment and Arbitrator Statement was comprehensively revised and upgraded for better case management. Those new tools will be officially launched and introduced in 2022.
In addition, the Rules of Arbitration were also thoroughly reviewed for amendments in 2022 to ensure enormous changes and developments in the last 02 years would be absorbed and reflected in our arbitration procedure.
Vietnam is now moving to the new phase of "Flexible and safe adaptation to COVID-19 for economic recovery" with a series of economy simulating policies. We do believe those measures by the Government, together with the morale of the Vietnamese people will protect our people and get our economy bounced back.
To sign off, I would like to send my great appreciation to our committed staff who have been through vicissitudes as a team/a big family. VIAC Secretariat will remain faithful to its vision to provide arbitration, mediation and other ADRs in Vietnam with international standards and keep completing and improving the quality of dispute resolution to better serve the business community.
Enclosing this message, I also would like to send my warmest wishes to all arbitrators, mediators, lawyers and arbitration users. VIAC appreciated your companionship through this challenging time, and we believe in a brighter 2022 with waving opportunities for all of us ahead.
I wish you all a safe and prosperous New Year of Tiger.
All my bests,
Mr. Vu Anh Duong.
-------
[1] By Carlos A. Rodriguez