On the morning of 11 July 2022, the delegation of the Vietnam International Arbitration Center (VIAC) visited the Embassy of Japan in Vietnam to pay tribute to Japan's former Prime Minister Abe Shinzo.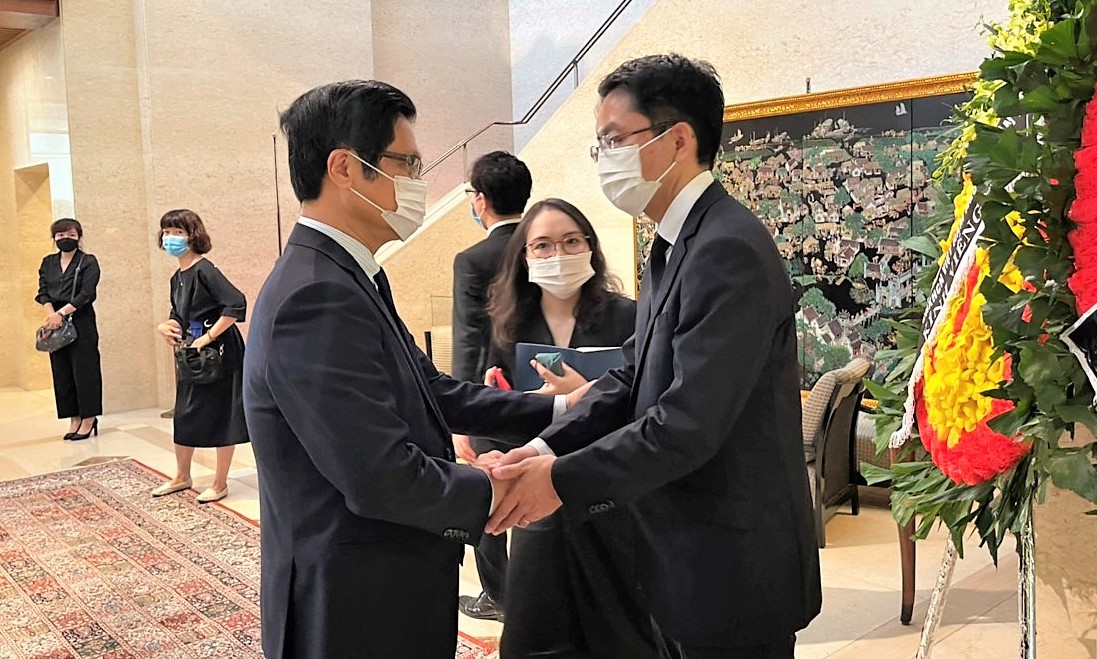 Dr. Vu Tien Loc expressed his condolence to the representative of Japan's Embassy
Respectfully signing the book, Dr. Vu Tien Loc – a Member of the National Assembly, a Member of the Economic Committee of the National Assembly, VIAC's President, wrote:
"We are deeply mourned by the assassination of the late Prime Minister Abe Shinzo,

an excellent leader of Japan and a great friend of the Vietnamese people.

We would like to send our deepest condolences to the Abe's family, the Government and the people of Japan."
Dr Vu Tien Loc's message in the condolence book
Mr. Abe Shinzo is Japan's longest-serving Prime Minister, first taking office in 2006, staying in power for a year and re-elected in 2012-2020.
Former Prime Minister Abe Shinzo made significant contribution to the development of the relations between Vietnam - Japan, for the benefit of the people of two countries, for regional and international peace, prosperity, partnership and development.
During his political career, Prime Minister Abe paid many visits to Vietnam. As Japan's Prime Minister, he visited Vietnam four times.
| | | |
| --- | --- | --- |
| | The Embassy of Japan in Vietnam has announced it will open the condolence book for late Prime Minister Abe Shinzo from 9am to 5:15pm on July 11 and 12. The condolence book is placed at the main entrance hall of the embassy's headquarters at 27 Lieu Giai street, Ba Dinh district, Hanoi. The Embassy also noted that those coming to pay respect are requested to present their identity cards when coming to sign the condolence book at the Embassy, and there is no parking lot around the area. | |